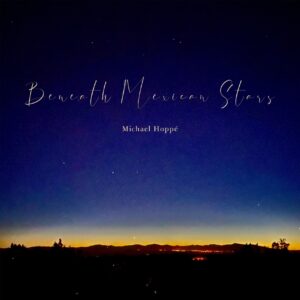 Beneath Mexican Stars
Michael Hoppé
2021 / Huks Music
42 minutes
Review by Kathy Parsons
Beneath Mexican Stars is Michael Hoppe´'s second album to be released in 2021 – lucky us! The first was By Myself, which is solo piano, something of a rarity for Hoppe´, although he is known all over the world as a wonderfully expressive pianist/composer. Released by Huks Music, Michael's Korean label, Beneath Mexican Stars is his homage to San Miguel Allende, his home since 2014. If you've been listening to Michael Hoppe´'s music for any amount of time (I've been a huge fan since 1996!), you are aware that he likes to arrange some of his music for different instrumentation, which is what he has done on several of the twelve pieces on Beneath Mexican Stars. Piano, strings, harmonica and keyboard bring refreshing new interpretations of some of Michael's best work to date.
Beneath Mexican Stars begins with the title track, arranged for string orchestra by Richard Bronskill. I love the solo piano version, but this string arrangement adds an even sweeter dose of romance and grace, making it easy to imagine a starlit waltz on a warm summer evening. There are two versions of "Forever" on the album, each dedicated to a close friend who passed away recently. The first is a piano and violin duet dedicated to Doris DiNucci. Violinist David Mendoza pours his heart into this one, taking it heaven-ward. Korean pianist/composer Sehwan Park arranged "El Jardin" as a tango for the piano, cello and violin trio, Triope – what a joy to listen to! "Wish You Were Here" is a beautiful piano solo with atmospheric keyboard washes. Overflowing with tenderness and longing, it's pure Michael Hoppe´! "Heidi's Waltz" is a sweet keyboard piece that pays homage to Michael's fascination with music boxes and their "tinkly" innocence. "Redemption" is a heartfelt violin solo (with synth washes) by David Mendoza, who obviously really understands the emotional quality of Michael's music – gorgeous! "Missing You" is unabashedly sentimental, performed as a piano solo with synth washes. One of Michael's favorites of his own compositions is "Safe To Port," a piece that has appeared on several of his albums, usually with vocals. This time, it is beautifully performed by violinist Emily Helsdon. I love all of the music on this album, but "Aubade" really stands out to me. A piano solo with subtle background synth, it expresses both melancholy and hope – a new Hoppe´ favorite! "Across the Years" features Joe Powers on harmonica. Powers and Hoppe´ collaborated on the 2008 Nostalgie and Powers has also appeared on other albums with Michael. On this piece, Hoppe´ plays background synth enhancements to Powers' nostalgic harmonica. The second version of "Forever" is dedicated to Frosty Horton and is a deeply expressive and poignant piano solo – another favorite! "Beloved" is one of Michael's most popular pieces and has appeared on several albums. Especially popular in Korea, this arrangement features Shin Nal-Sae on the traditional Korean two-string instrument, the Haegeum, and Hoppe´ on piano, bringing another great album by Michael Hoppe´ to a close.
Beneath Mexican Stars is available from Amazon and Apple Music/iTunes as well as many streaming sites such as Spotify. New music from Michael Hoppe´ is always a treat, and this album is no exception!
November 13, 2021