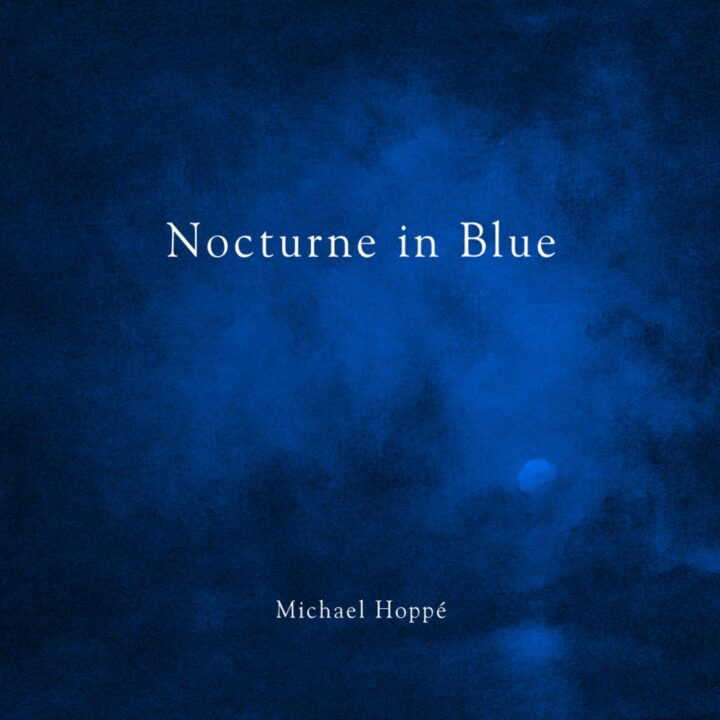 Nocturne in Blue
Michael Hoppé
2023 / Chordially Yours Music
48 minutes
Nocturne in Blue is the twentieth album by Michael Hoppé that I've reviewed (not counting singles or compilations) since he first blew me away with his 1996 album, The Yearning with flutist Tim Wheater. A master of creating music that flows from the composer's soul to his listeners', Hoppé's music tends to range from poignant to mournful. In an interview we did in 2003, he told me: "I have to play, record, and compose music which moves me, and happiness, in musical terms, doesn't cut it at all. I don't like jolly music. Most of my music really is internal – it's heart music. It's reflective and evocative. If it has a sense of melancholy at times, that's what I'm really moved by." That quote was from twenty years ago, and it's still very true.
The album consists of twelve tracks and a bonus track. Several of the pieces (all originals) appear with different combinations of instruments. The title track appears in three versions – cello and orchestra, solo piano, and violin and keyboards. "Love Remains" appears as orchestrated, solo piano, and piano and cello. There is a total of six different titles, including the bonus track. Most of the album was recorded in Michael's home studio in San Miguel de Allende, Mexico. The two orchestral pieces were performed by FAME'S Orchestra in Macedonia and recorded over Zoom (!!!). The cover artwork is a painting Michael did in about 1984.
Nocturne in Blue begins with the orchestrated title track that features cellist Kristian Chernev and suggests images of ballroom dancers gracefully moving across the floor or star-crossed lovers on a moonlit walk (at least it does for me!). Beautifully bittersweet, it's Michael Hoppé at his romantic best. "Dreaming in Blue & Yellow" is dedicated to the people of Ukraine, and appears the first time with violin (David Mendoza) accompanied by ambient background strings – an eloquent heartbreaker. As I mentioned, there are three versions of "Love Remains" on the album, but they all sound different from each other. The fully-orchestrated arrangement comes first, with flutes and strings in the lead – gorgeous! The first arrangement of "Forever" features violin (Mendoza) and keyboards (Hoppé) – reflective and dreamy. "Obsession" only appears once on this album, and is beautifully performed with violin (Mendoza) and keyboards (Hoppé) – passionate and just a little bit dark. The solo piano version of "Nocturne in Blue" is my favorite, as it is so deeply expressive. Michael says that this has become one of his favorite compositions, and that really comes across in his playing. Next up is the flowing and heartfelt solo piano arrangement of "Love Remains" – also a favorite! The solo "Dreaming in Blue & Yellow" is even more haunting than the violin and orchestral arrangement with compassion and deep emotion flowing from every note. The third arrangement of "Nocturne in Blue" is for violin and keyboards, giving it yet another perspective that is as affecting and beautiful as the first two. The third arrangement of "Love Remains" is for piano and cello and could melt rocks. It's my favorite track on the album! The solo piano "Forever" is classic Michael Hoppé and acts as something of a prelude to "Siempre (Forever)." Sung in Spanish by Emiliano Cadena, the song is dedicated with deepest love to his son, Jose Antonio Solano Ramirez (1997-2023). The bonus track is "Fryderyk's Lament" for piano and keyboards, an amazing piece that incorporates Chopin's Prelude in C Minor (Op. 28 #10) played by strings with a mournful piano melody.
Wow! Another incredible album from Michael Hoppé! Nocturne in Blue is available from Amazon, Apple Music/iTunes, and streaming sites including Spotify. Very highly recommended!
Kathy Parsons
MainlyPiano.com
5/22/2023